Another Gigantic closed beta test is due to begin in a couple days from now and we've partnered with Perfect World Entertainment to give away a grand total of ten thousand Gigantic closed beta codes!
As you might recall, six months ago Motiga announced that their 5vs5 third-person MOBA game would be published by Perfect World Entertainment. The development team has since worked hard to improve the game and these test sessions are meant to evaluate those improvements.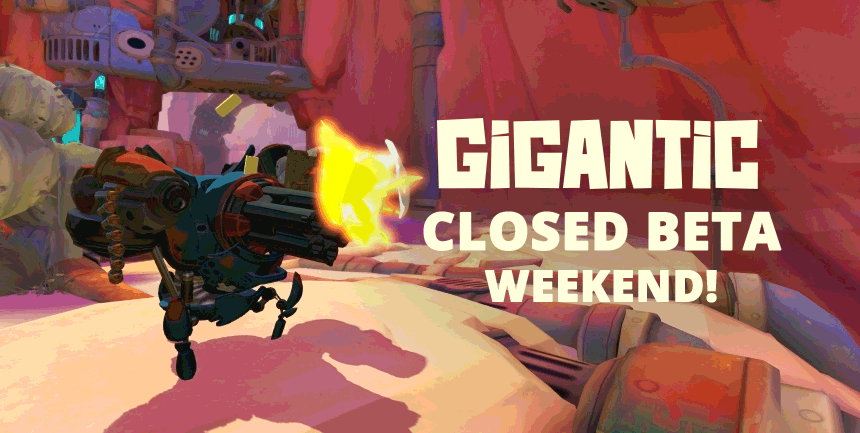 Here's what you can expect this weekend:
4 Featured Heroes: Aisling, Charnok, HK-206, Uncle Sven
4 Random Heroes: Every player will have four additional heroes randomly unlocked on their account. (Don't worry, you can earn currency and unlock any heroes that aren't on your random rotation this week!)
3 Maps: Ghost Reef, Sanctum Falls, Siren's Strand
NO NDA: Share the game with your friends! Stream, record, take screenshots, and share them all with the community! You can also share all your favorite moments with us on Twitter and on the official forum!
NO Progression Wipe: Continue where you left off; you can play all the heroes you unlocked last weekend!
After you've picked your code (just unlock the two actions by following our Twitter account and subscribing to our YouTube channel), redeem it with the following instructions and wait for the closed beta test to begin. It's scheduled to start on November 17th at 9AM PT(12PM EDT, 18:00 CST) and it will be over on November 20th at 11:59PM PT (3AM EDT, 9:00 CST).
Gigantic Closed Beta PC (Arc) Giveaway

Gigantic Closed Beta Xbox One Giveaway

 To Access Gigantic on Arc:
⦁ Download and install Arc.
⦁ Log in to your Arc account.
⦁ Click the gear icon in the top menu.
⦁ Select "Activate a Product."
⦁ Input your code.
⦁ The game will appear in your Arc library after it has finished downloading.
To Access Gigantic on Xbox One:
⦁ Load up your Xbox One console.
⦁ From the "Home" screen, scroll right to access the Xbox Store.
⦁ Under "Games," select "Use a Code."
⦁ Select "Enter the 25-character Code".
⦁ Enter your 25-digit code on the screen, then select "Enter."
⦁ Select "Confirm."
In case you're interested in playing this Gigantic closed beta test on PC (Arc), take a look at the system requirements first.
| | |
| --- | --- |
| Operating System |  Windows 10 64-bit / Windows 8.1 / Windows 8 / Windows 7 |
| CPU |  Minimum: 2.6Ghz processor, Recommended: 3.2Ghz processor |
| RAM |  Minimum: 6GB RAM, Recommended: 8GB RAM |
| Hard Disk |  10GB |
| Graphic Display |  GeForce GTX 580, DirectX 11.1-compatible video card (Nvidia or AMD only) |
| Sound Drivers | |
| Network |  Broadband Internet connection (512kb download speed or more) |