Putting power and utility into an ultra-slim gaming laptop demands the kind of innovation that typically comes with a premium price. But those who would benefit most from slender proportions, like students and freelancers who carry their work with them all day, aren't often in the position to shell out for such a luxury.
Ultra-Slim For Everybody
The all-new ROG Zephyrus G upends the status quo as the first in its family to bring ultra-slim gaming to a wider audience. Building on the principles of its predecessors, it covers all of your essential gaming needs in an enviably compact form at a surprisingly affordable price.
The Zephyrus G's new NVIDIA® GeForce® 1660 Ti GPU deftly handles the most popular games, while its energy efficient AMD® Ryzen™ 7 APU offers up to 8.8 hours of battery life and ample power for everyday productivity. Combined with cutting-edge Intelligent Cooling that optimizes system settings based on the scenario, this blurs the line between capable gaming machine and super-portable laptop.
Sleek And Subtle Enough To Fit In Anywhere
Like its siblings, the Zephyrus G is a svelte stunner. At just 20mm thin and under 5lbs, it's eminently portable. Super-narrow bezels on three sides squeeze the 15'' display into a 14'' chassis that's small enough to fit into a backpack or carry-on. The narrower footprint leaves more room for your mouse and work, so you can get things done without cramping your style.
With a clean design that blends in anywhere, you can take full advantage of the Zephyrus G's portability. Gaming laptops tend to announce their presence with colorful (and sometimes strobing) enthusiasm that stands out in the crowd, but that much personality isn't always a plus, especially when you're sitting in a crowded lecture hall or coffee shop.

Professional polish distinguishes the Zephyrus G from other gaming laptops in its class. Tasteful white backlighting illuminates the keyboard for easier typing in the dark. Subtle details, like the hairline brush strokes that slash across the lid and chiseled diamond cuts around the exterior, exude a refinement that makes an impression without demanding attention.
Experience All The Most Popular Games
When it's game time, the one-two combo of up to the latest GeForce® GTX GPU and punchy Ryzen™ APU delivers solid frame rates with reliable smoothness. Uniting AMD® and NVIDIA® processors is a favorite tactic of desktop gaming enthusiasts to maximize impact per dollar. Now we're combining these technologies together in an ROG laptop for the first time.
The GeForce® GTX 1660 Ti brings NVIDIA's new Turing architecture to the well-loved GTX series. Though it skips the flashier visual effects available in the RTX™ line, it's still a serious step up from its Pascal predecessors. An upgraded video encoder improves live stream video quality by up to 15%, offering accelerated capture with less burden on the CPU. Tweaks to the CUDA cores, cache hierarchy, and memory subsystem also result in a significant per-core performance lift that benefits a broad range of modern games. Thanks to Intelligent Cooling, the GeForce® GTX 1660 Ti clocks up to 1335MHz at 60W in Turbo mode with ROG Boost.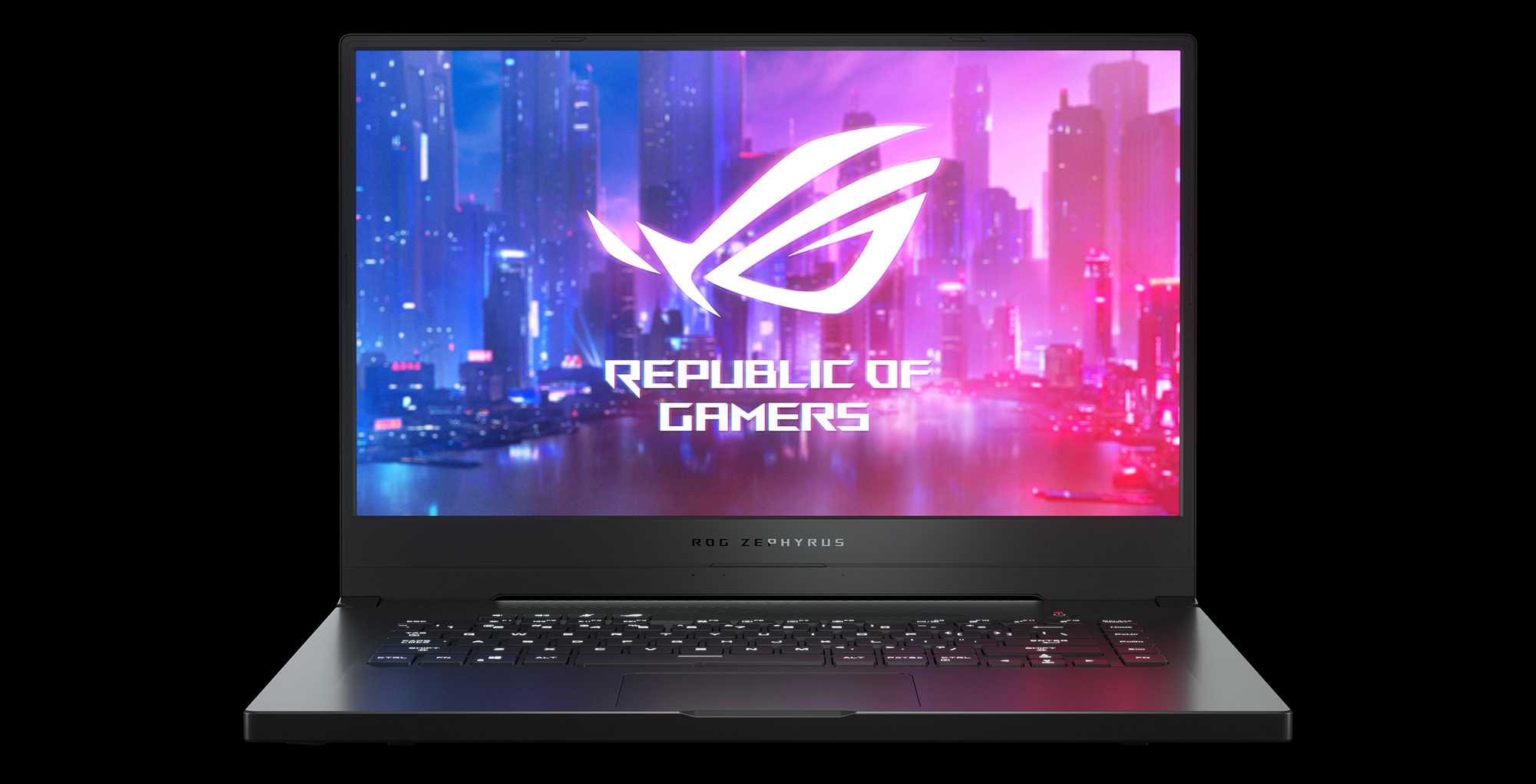 A speedy display lets you reap the full benefit of the extra horsepower. With up to a 120Hz refresh rate that doubles the output of standard screens, the Zephyrus G is fast enough to fully support the triple-digit frame rates dished out by the GeForce graphics. It delivers smoother gameplay that's especially noticeable and advantageous during fast-paced FPS games.
The slim bezels practically melt away with an 81% screen-to-body ratio that feels expansive. Wide viewing angles keep the picture on the vIPS panel from washing out, so that there's never a bad seat when you're watching movies or split-screen gaming with friends.
Power Through Everyday Multitasking
The AMD® Ryzen™ 7 APU is quick and versatile, with quad cores and eight threads capable of cutting through day-to-day work. Its energy-efficient architecture enables superior battery life, giving you a real-world portability boost. You can stop hunting for outlets and binge-watch all the latest shows with nearly 7 hours of video playback, or catch up on social media and surfing with up to 7 hours of Wi-Fi web browsing. With up to 32GB of DDR4-2400 RAM, you can do it all at the same time with quick and efficient multitasking.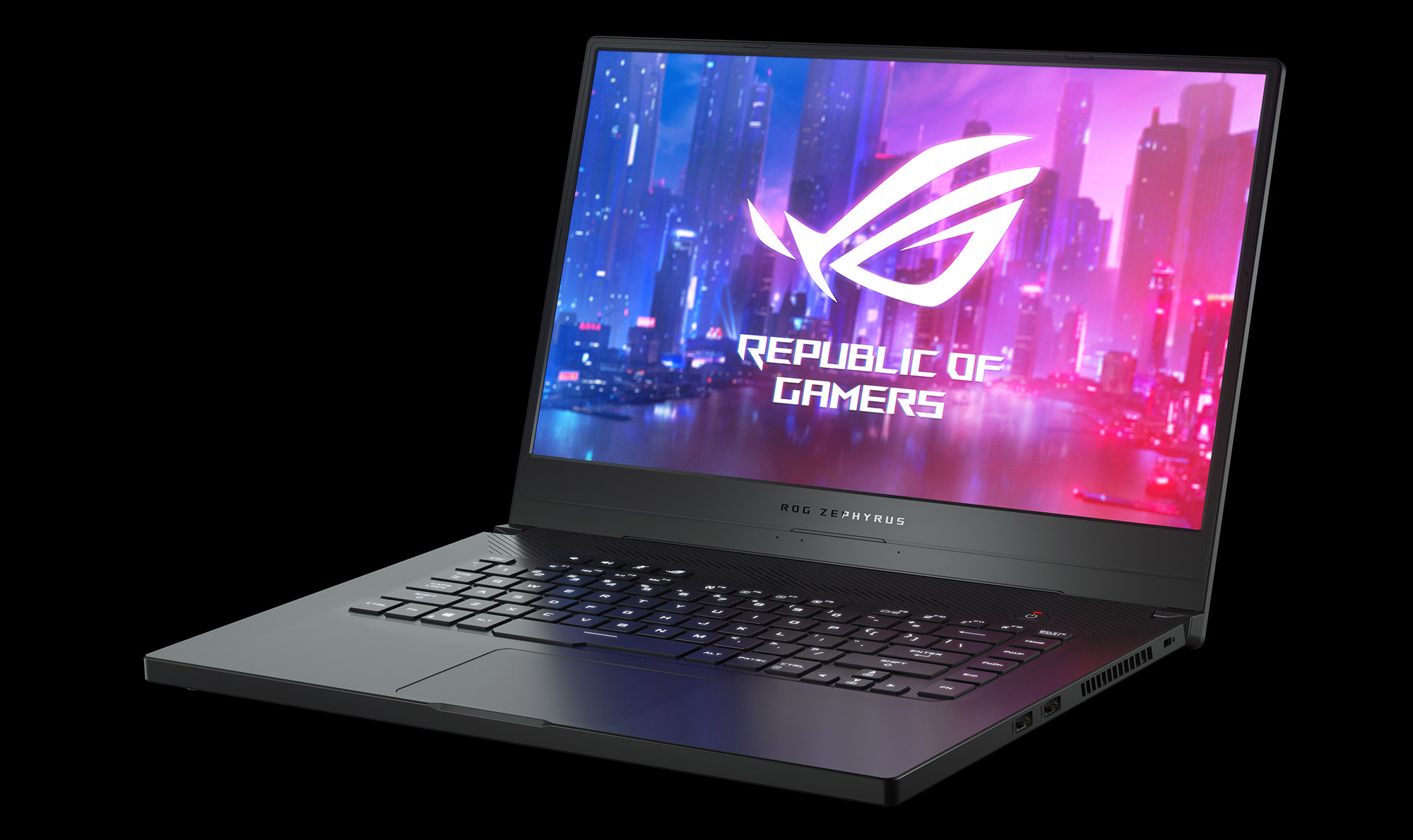 A nimble NVMe SSD navigates your daily routine with added agility. Experience faster load times across your entire library, from massive games to the latest apps. With up to 512GB of storage, there's ample space to quickly save your work portfolio and favorite media. The combination of a potent APU and superfast storage means more time on actual play and work, and less time watching loading bars spin.
Intelligent Cooling Adapts To Your Needs
Processors can't perform at their peak without capable cooling. This is doubly true in ultra-slim gaming laptops, where compact dimensions demand even greater efficiency. ROG's Intelligent Cooling philosophy allows the Zephyrus G to get the most out of its silicon with a strategic blend of hardware and software that optimizes performance and acoustics and improves stability over time.
The self-cleaning thermal module resists dust and debris that could otherwise build up and compromise heat dissipation over time. Anti-dust tunnels prevent accumulation on the heatsinks and fans; they catch particles sucked into the fan and propel them out the back.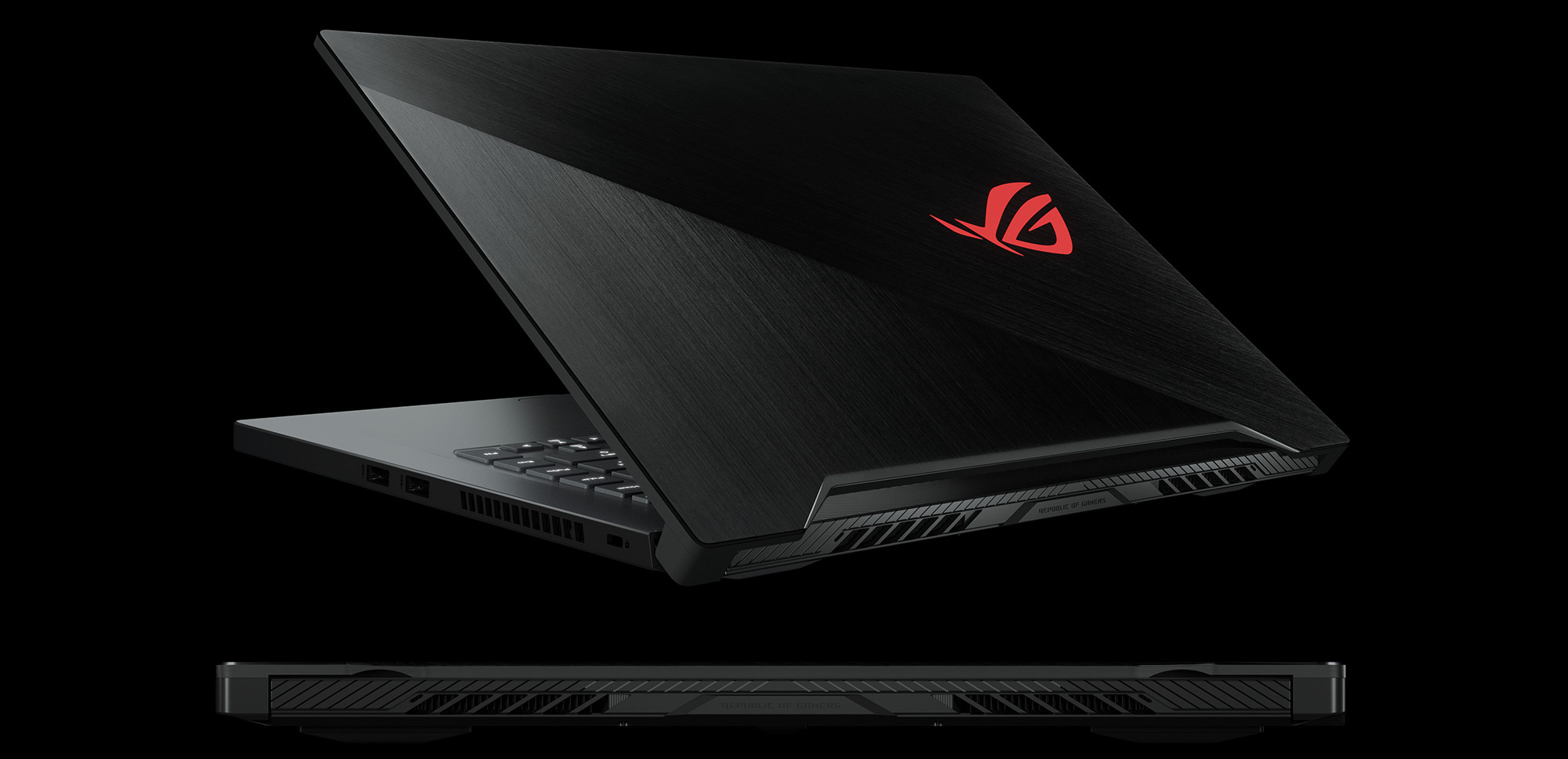 Carefully placed heat pipes leech heat off the CPU and GPU, as well as the circuitry that powers them. The processors have multiple pipes connected to shared heatsinks, ensuring optimal cooling for any workload, including gaming that puts more stress on the GPU.
Updated fans maximize airflow through the heatsinks. They're made of a special liquid crystal polymer that allows the blades to be incredibly thin but still strong enough to withstand high RPMs. Because each blade is 33% thinner than conventional designs, each fan can pack 83 blades for our highest density yet–and up to a 17% improvement in airflow.
Different tasks require different levels of performance and cooling, so ROG Armoury Crate's new Scenario Profiles step in to seamlessly switch between operating modes. Turbo mode sets clocks and fan speeds to the maximum for heavier lifting and time-sensitive projects. The balanced mode makes adjustments to lower noise levels for gaming while maintaining high FPS. Silent mode lowers acoustics and is perfect for basic tasks like browsing the web and taking notes in class.
Flexible And Versatile On The Go
Plug in your favorite headphones and sink into 7.1-channel virtual surround sound for deeper immersion in games and movies. Or crank the volume on the onboard speakers; Smart Amp tech keeps them within thermal and excursion limits, so you can turn it up without damaging the cones. Hi-Res certification ensures you can enjoy your full media and games collection at peak audio fidelity, for a richer acoustic experience.
The keyboard is designed for more precise and comfortable typing and gaming. Earlier actuation enabled by ROG Overstroke technology means faster, more responsive inputs, while N-Key rollover ensures that every press is registered, even when you're mashing multiple keys at once. Even the shape and placement of the keys is geared toward accuracy and convenience. Fire off function commands quickly and intuitively with key spacing that mimics desktop layouts, and access essential commands like volume and mic mute instantly with dedicated hotkeys.

Convenient connectivity provides more options for your setup. Three Type-A USB 3.1 Gen 1 ports offer enough capacity for a gaming mouse, gamepad, and external storage if needed. The reversible Type-C USB-C port does more than charge devices and transfers data. Its DisplayPort™ 1.4 compatibility lets you hook up an external monitor for more screen real estate, so you can play games on one display and keep up with chat and emails on the other. There's also an HDMI 2.0b port that can output a 60Hz signal for 4K TVs and monitors.
Getting online is easy with both wireless and Ethernet. Integrated 802.11ac Wi-Fi offers fast and reliable access for everyday networking, while the Gigabit Ethernet jack boasts the lowest latency for performance-sensitive activities like multiplayer gaming and streaming.
ROG Zephyrus G GA502
Processor
AMD Ryzen 7 3750H
Display
15.6" FHD 60Hz/120Hz vIPS display, anti-glare
Graphics
NVIDIA GeForce GTX 1660 Ti 6GB GDDR6
Memory
Up to 32GB DDR4 2400MHz
Storage
512GB/256GB M.2 NVMe PCIe SSD
Wireless
1x1 Wi-Fi 5 (802.11ac)
Bluetooth 5.0
Connectivity
1 x RJ-45 jack
1 x USB 3.1 Gen 2 Type C w/ DisplayPort 1.4
3 x USB 3.1 Gen 1 Type A
1 x HDMI 2.0b
1 x 3.5 mm audio combo jack
1 x Kensington lock
Keyboard
White-backlit chiclet keyboard with N-key rollover and Overstroke
Audio
2  x 1W speakers with smart amplifier
Battery
76Wh 4-cell Lithium-ion
AC Adapter
180W AC Adapter
OS
Windows 10 Pro / Windows 10 Home
Size
14.2(W) x 9.9(D) x 0.78(H) inch
Weight
2.1 kg
Streamlined essentials in an ultra-slim package
The ROG Zephyrus G makes ultra-slim gaming affordable and accessible by delivering focused gaming and everyday essentials in a compact and portable form. Its GeForce and Ryzen processors combine firepower to comfortably handle everyday gaming and multitasking, and they're sustained by Intelligent Cooling that adapts to provide the best experience for what you're doing.
| | ROG Zephyrus G GA502DU-BR7N6 |
| --- | --- |
| Processor | AMD Ryzen 7 3750H |
| Display | 15.6" FHD 120Hz vIPS display, anti-glare |
| Graphics | NVIDIA GeForce GTX 1660 Ti 6GB GDDR6 |
| Memory | 16GB DDR4 2400MHz |
| Storage | 512GB M.2 NVMe PCIe SSD |
| Price | $1,199 USD |
| Availability | Best Buy |
It's rare to find an ultra-slim gaming machine that won't slim your wallet, but the Zephyrus G is flexible enough to go anywhere and do anything. The Zephyrus G GA502 is available now and is priced at $1,199 USD at Best Buy in the USA.