GreedFall, the next roleplaying game in development at Spiders (Mars: War Logs, Bound by Flame, The Technomancer), is coming out on September 10th for PC (Steam), PlayStation 4 and Xbox One.
Pre-purchasing the game currently provides the following benefits: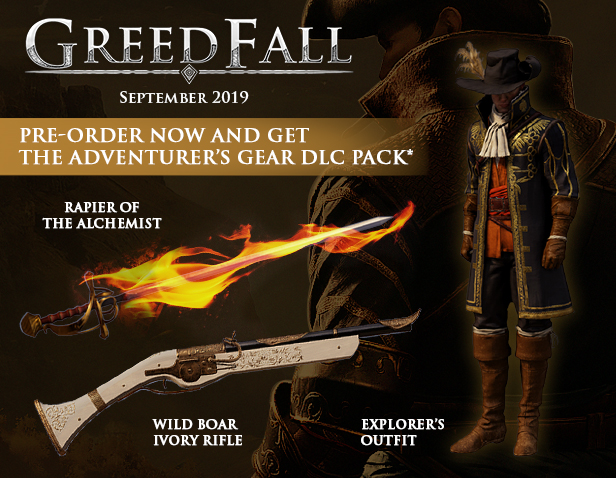 *The DLC "Adventurer's Gear" will be available for purchase after the release of the game
Explorer's Outfit – Perfect for any adventurer embarking to strange lands, the Explorer's Outfit is said to bring its wearer good luck and fortune. This complete outfit contains the Hat of the Discoverer, Doublet of Good Fortune, Gloves of the Craftmaster and Weighted-heel Boots.
Rapier of the Alchemist – Crafted by a master alchemist of Al Saad, the blade of this rapier ignites when drawn, with the ability to inflict terrible wounds.
Wild Boar Ivory Rifle – This elegant rifle isn't just for style. Though less effective at longer distances, a short-range blast is more than enough to stop a charging boar in its tracks.
GreedFall was previewed by Chris a couple of months ago, and he also got to interview Spiders CEO Jehanne Rousseau. Below we've added the most recent gameplay showcase from E3 2019.
Explore uncharted new lands as you set foot on a remote island seeping with magic, and filled with riches, lost secrets, and fantastic creatures.
Forge this new world's destiny, as you befriend or betray companions and entire factions. With diplomacy, deception and force, become part of a living, evolving world - influence its course and shape your story.

Engage in a core roleplaying experience – achieve quests and complete objectives in a multitude of different ways – through combat, diplomacy, deception, or stealth.
Complete freedom in character progression – play as a male or female, customize your appearance, and freely choose your abilities, spells and skills.
Delve into a mysterious world of magic – begin a grand journey and uncover ancient secrets protected by supernatural beings, manifestations of the island's earthly magic.