Hints about a Google-owned subscription service called Google Play Pass have been showing up for quite some time. A few days ago, Google teased it officially, indicating that it was due for release shortly. Today, an official announcement has been made about the service. Let's take a look at what it brings.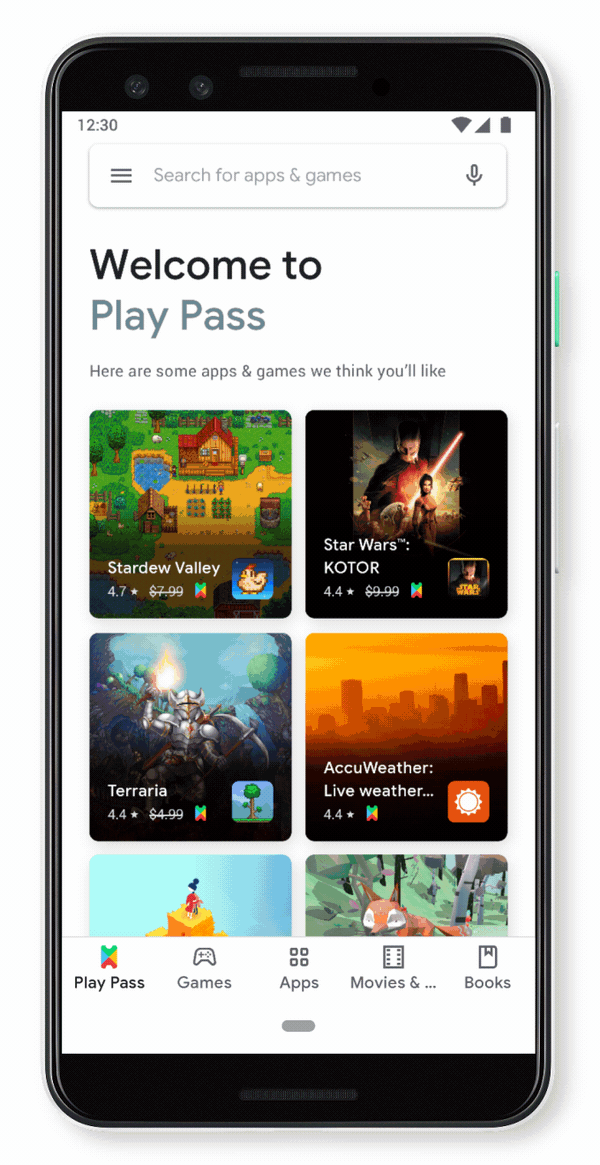 Google Play Pass gives you access to more than 350 apps and games that are completely unlocked. That is, they're free from the afflictions that plague most modern-day apps, aka ads and in-app purchases. Apps and games see all their ads removed and IAPs made available. The same Play Pass "unlock" applies to any app that you already paid for or downloaded. It offers a curated collection of titles such as Stardew Valley, Risk, Facetune, and AccuWeather. Google further adds that new apps and games will be added every month.
You can access it via a new "Play Pass" tab in the Play Store. Google Play Pass apps and games can also be found throughout the Play Store–just look for the Play Pass "ticket." The service will be supported on all Android phones, tablets, and Chromebooks. Android TV is supported too, and games can be installed on the TV. The experience on TV, however, is far from complete and its best that you wait for Google to iron out the kinks.
Currently, Google Play Pass is only available to subscribers based in the U.S. There is no word about an international release just yet, but Google says that they'll announce it in the coming weeks. Users get a free ten-day trial and can upgrade to the full thing at only $1.99 per month. That price, however, is only valid for a year and will increase to $4.99 per month after a year. Additionally, one Play Pass subscription can be shared with up to six family members.
It is hardly surprising that Google opted to release Play Pass now. Apple Arcade went live a few weeks ago and it would be unwise for Google to withhold Play Pass from the general public. Even though both services do the same thing, they can't be deemed as competitors as they're exclusive to one platform. The prospect of ad-free, curated content is a welcome one, especially on Android where even the 'premium' apps are chock full of ads and predatory IAPs. I can't wait to check Play Pass out whenever it is available in my region.