CHUWI has launched a laptop named Aerobook on the crowd-funding platform-Indiegogo. A discount campaign is also running from now. Let's take a look at the specs of this ultra-cost effective notebook.
CHUWI Aerobook adopts the popular "full-view" screen with three-sided ultra-slim bezel. According to official data, the average bezel is only 5mm, 15% increase compared with traditional notebooks' 65% screen-to-body ratio. Besides, the C-side of Aerobook's full-size keyboard also applies slim-edge design, quite compact; The weight of it is only 1.25kg.
"Full View" or "Bezelless" design has become the norm for mobile phones, but for notebooks, it's still expensive. That's why we decided to develop an affordable full view notebook.
AeroBook features an ultra-narrow bezel design but with an 80% screen ratio. The virtually borderless display maximizes screen space by accommodating a 13.3-inch display inside a 12-inch frame, thanks to a bezel measuring just 5mm, and so delivering an immersive, Full-HD experience.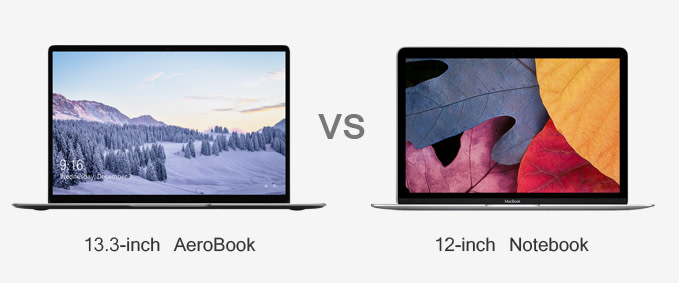 Combined with the borderless keyboard design , it makes the C-plane of Aerobook more compact and integrated, which offering the best balance between the small body and large screen, thus making the notebook lighter and thinner.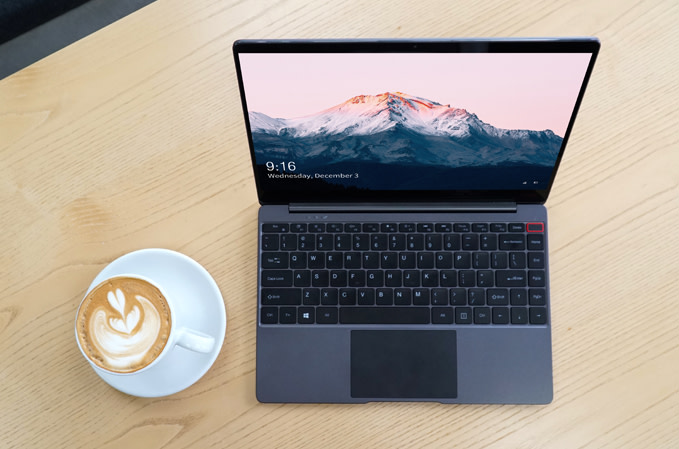 Elevate your senses with a 13.3-inch full HD screen. You'll experience vibrant visuals at 1920*1080 resolution - that's 1.8 times sharper than a 24-inch desktop monitor. Featuring an advanced LCD technology-IPS panel, the viewing angle is up to 178 degrees, in either the horizontal or vertical.
Using fully laminated technology allows AeroBook to have such a thin screen, thus reducing the weight of the device. Moreover, it reduces the air layer between the screen components by 4x, reducing glare caused by air refraction, making it perfect for indoor and outdoor use.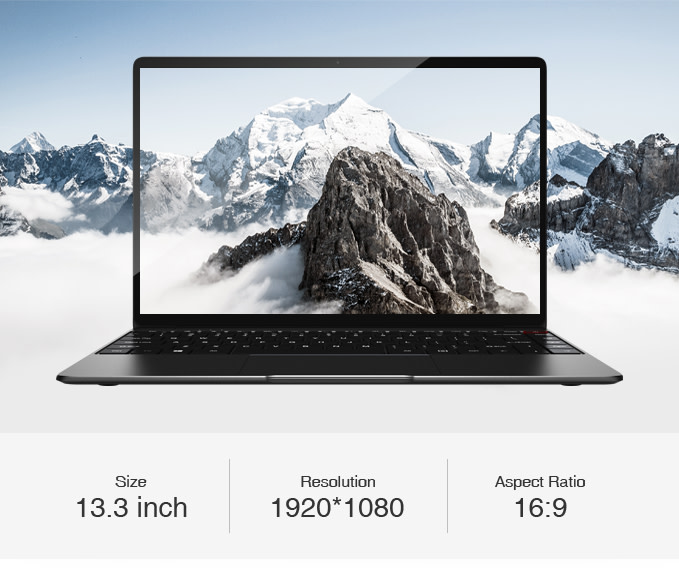 Appearance: Stylish and Durable
The remarkably slim profile of the AeroBook is lightweight and compact, so you can take it anywhere with ease and it easily fits in your bag. At its thinnest point, Aerobook is only 8mm and weighs only 2.77 pounds, similar to the size of A4 paper.
Even though the Aerobook is incredibly light, we have made no compromises in material and robustness. The AD-plane adopts an Exquisite Aluminum Alloy Main Shell, made by an advanced CNC process, making the details of the fuselage more refined and precise, thus achieving excellent durability.
Aerobook is encased in sandblasted premium aluminium on its surface, just like a Macbook - but AeroBook's surface is even smoother.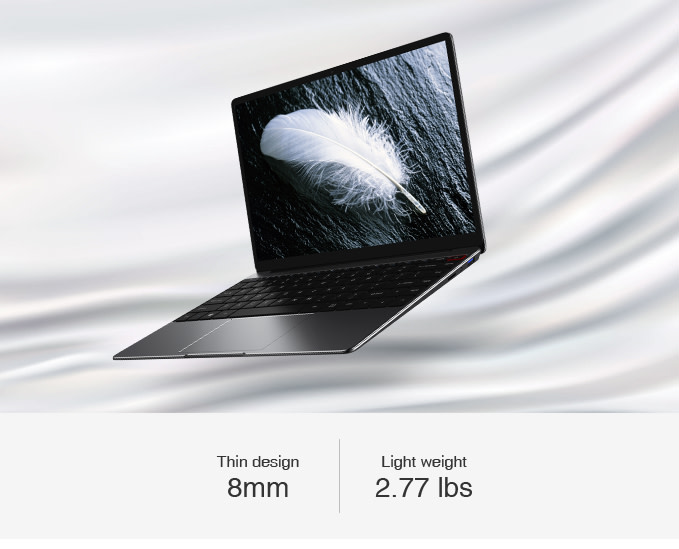 Chip: Outstanding Performance
In terms of performance, we chose Intel Core M3 6Y30 for everyday office and entertainment. It is incredibly power-efficient thanks to a  64-bit, dual core, quad-thread processor running at 2.20 Ghz (using turbo boost). It is manufactured by using a 14 nm process, offering up to 17% higher performance and 41% faster graphics processing than the previous generation. You will love the amazing system responsiveness and processing power of the AeroBook!
Another advantage is that thanks to great thermal characteristics, there's no need for cooling fans, thus providing completely silent operation.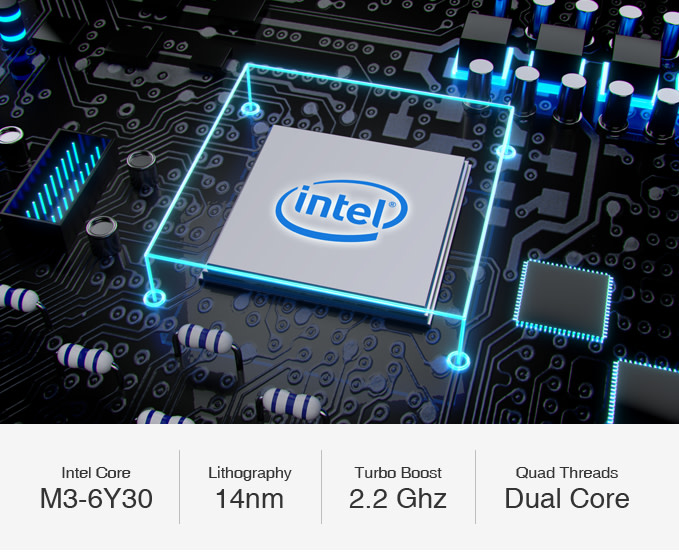 The chart below is a comparison of the performance between Intel Pentium N4200,Core i3-5005U and Core m3-6Y30 by PCMark8.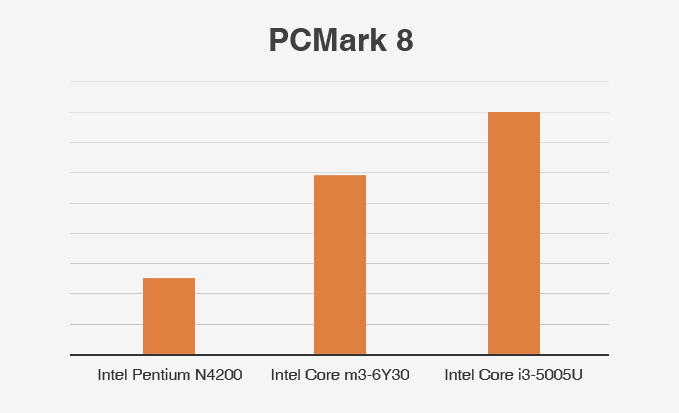 AeroBook uses Intel HD Graphics 515 on an integrated GPU, which has 12 execution units and up to 850MHz dynamic frequency. Whether you are playing games or watching the videos, it will guarantee everything will run faster and more smoothly.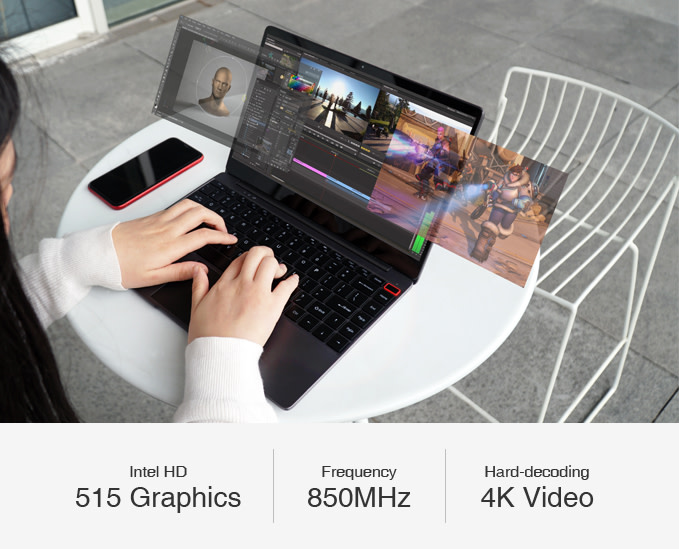 High Capacity: Rapid Operations & Mass Storage
Embedded with 128GB eMMC storage and dual-channel 8GB LPDDR3 high-speed RAM, AeroBook not only gets a performance improvement by a large margin but also decreases power consumption by 20%.
Plus, thanks to the dual channels, memory bandwidth is doubled, so you can enjoy faster performance than a single-channel memory notebook. That means it can be ready to assist you quickly and easily in handling multiple heavy tasks while consuming significantly less power.
Don't worry about insufficient capacity, there's always an option to expand with a m.2 SSD or micro SD memory card, giving you even more space for videos, photos, music - and all your documents.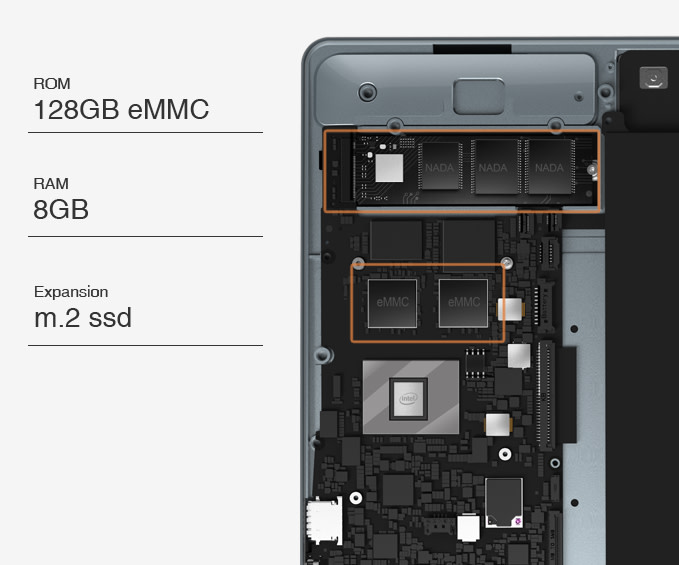 Battery: Ultra Lasting
AeroBook adopts a power-saving design, which uses a number of CHUWI'S technological advancements to enhance the battery to 8 hours.
On one hand, the 38Wh high-density lithium polymer battery has 3x the capacity than an ordinary lithium battery. On the other hands, we chose low-power hardware, such as LPDDR3 ultra-low-power memory, we've optimized the BIOS and use a low power consumption CPU, guaranteeing low-power output.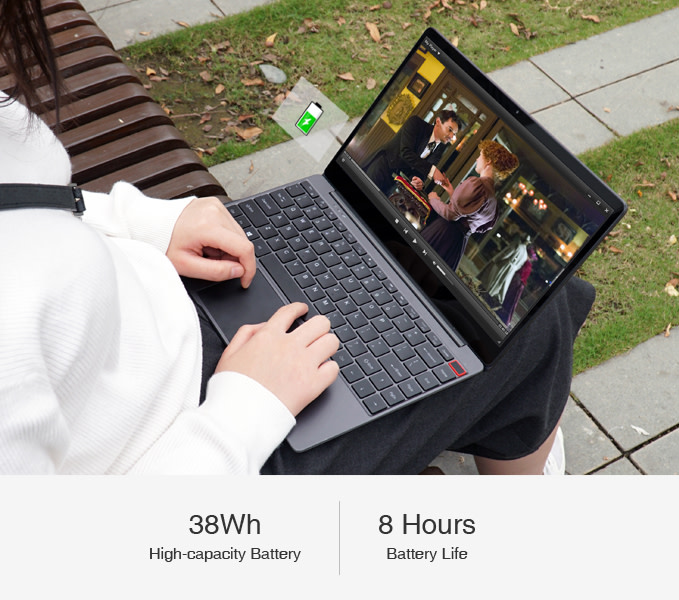 Compacted Keyboard: Simple & Comfortable
We designed the backlit keyboard and a maximized the touchpad for you so that you can enjoy accurate typing and ultimate comfort through the tip of your fingers - even in the dark.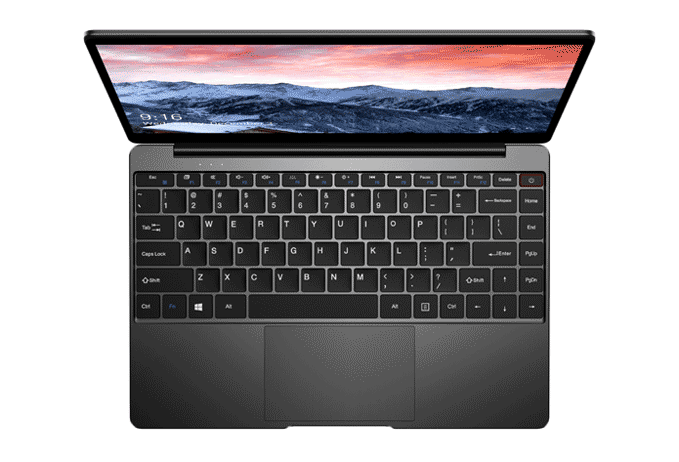 What's more, it supports a full Windows 10 operating gestures usually found in high-end Windows notebooks, making Aerobook superior to most traditional PC brands in its class.