A job search can be tedious as one has to sift through countless web pages, newspaper ads and the likes. It's just as hard for employers as they often struggle with finding the right person. According to Google, approximately seventy-five per cent of all employers have a hard time filling positions with the right people.  An integral part of any job search is Google, and starting today, it'll be a lot easier for job seekers to find a position that suits their needs. According to their blog post:
Today, more people are turning to Google to find information about their next role. We have a long history of using our technology to connect people with information, so we're excited to bring a new job search experience to Google to connect people in the U.K. to job opportunities. This new feature in Search lets you more easily explore jobs from across the web and find job postings that suit your needs and skills.
When you search for phrases such as "jobs near me," "teaching jobs," in the U.K., you'll have the option to navigate through to a feature that lets you explore jobs from across the web that meet your needs. It even lets you access salary information, reviews and ratings of the employer and different options to apply for a job. Additionally, you can even use a location filter to see jobs in the areas near you. You'll even be able to see how much time it takes for getting to the said location, thanks to Google Maps.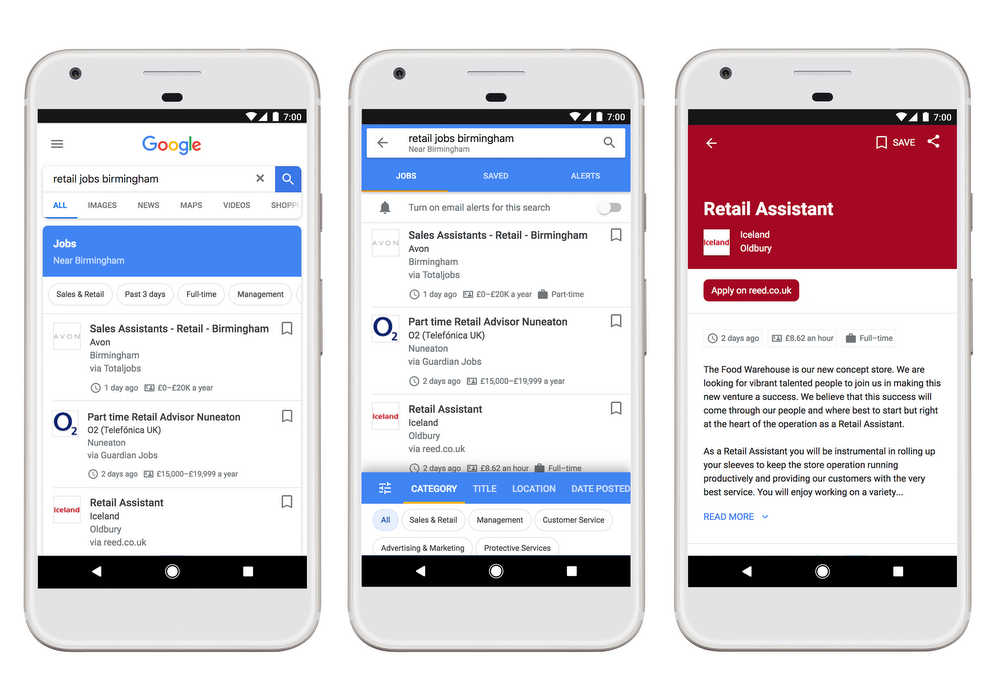 Before one zero in on their new dream workplace, one often has to go through a lot of places. Keeping a track of all the listings you're interested in is a lot easier as you can save individual jobs with a single tap so that they are accessible across any of your devices. You'll even receive notifications about jobs which might pique your interest. The notifications can be stopped easily via Google Search.
This launch also builds on the commitment we made last year to help 100,000 people in the U.K. find a job or grow in their career by 2020. We're doing that through our Google Digital Garage program, which gives anyone free training in digital skills and products to help grow their career, business or confidence. So far we've helped tens of thousands of people find their next job through free training at four city-center hubs and with partners across the U.K.
The UK joins the US to implement the feature. Google is working with the likes of The Guardian Jobs, Reed.co.uk, Haymarket, Gumtree, The Telegraph, Reach plc's totallylegal, CV-Library and totaljobs.com to help bridge the gap between employers and employees.
News Source: Google