With the black friday nearing, deals are popping up all around the web. This post will give you some of the best deals on some of the best tablets out there. These are our top five picks of the month.
Our Five Tablet Recommendations
Nexus 7 2013
You can get the Google Nexus 7 2013 for just $199 from Amazon. This will get u Google's best tab as of now when considering the hardware.U get a 323 ppi screen with the capable Snapdragon S4 Pro SOC with Quad 'Krait' cores coupled with the adreno 320. This all is backed by 2 Gigabytes of Ram and it currently runs the Android 4.3. However the 4.4 update is just around the corner. All this for $199, you cant go wrong.
Honorable Mention:
iPad Mini Retina
iPad Air
Light, slim and designed with simplicity the iPad Air is a formidable tablet. It delivers in every department except price. Starting at $500, it sports a 264 ppi screen and Apple's own A7 dual core chipset which beats many quad-cores easy. With a huge battery and optimized iOS, battery life wont be an issue. Also, for the price premium you get a bigger 9.7' screen. For a few bucks more, consider getting the LTE version.
Samsung Galaxy Note 10.1
 Starting at $600, the Note 10.1 (2014 edition) is priced near to the iPad. You get 32 GB memory and 4G support. It has a  299 ppi IPS based 10.1 inch screen. With the Snapdragon 800 running under the hood, ample battery capacity and touchwiz modified Android 4.3, it is a good bargain. You get 3 GB of Ram, generally the more the merrier.
Honorable Mention: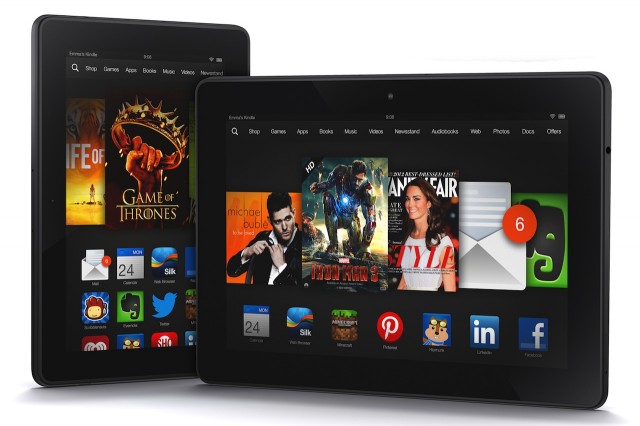 The Kindle Fire HDX 8.9' has a reasonably sized 8.9 inch screen with a monstrous 2560 x 1600. The Adreno 330 utilized in the Snapdragon 800 runs the 339 ppi screen. With amazon's quoted battery life of 12 hours mixed use and 18 hours when reading, it delivers well. Starting at $379 with the Premium Snapdragon 800 and a gorgeous screen it is a good buy.
Microsoft Surface 2
A cheap windows tablet in the $300 range is yet to surface, however Microsoft has released a $450 Surface 2 with Windows 8.1 ( RT though).  This is round two of Microsoft's venture into Tablet territory and this time the price is almost right. With the Tegra 4, utilizing Quad Cortex A-15's with Nvidia's own 72 core gpu it is no slouch.
Some drawbacks include a mediocre camera  and the low screen resolution. 1920 x 1080 resolution on a 10.6 inch Tab gives out a low 206 ppi. The Surface 2 is not meant to replace a phone as it does not have a sim slot for internet nor does it have GPS. The Surface 2 is a good tablet, if would have been great if the price was lower, or the Screen improved.
Honorable Mention:
Nokia Lumia 2520