Visuals comprise the most vivid and visceral elements of the gaming experience. They manifest on the display, drawn by pixels that scale into the millions to deliver lifelike details. Rich colors and deep contrast complete picture-perfect scenes, while quick response times and high refresh rates make the movement look incredibly sharp and feel impeccably smooth.
ROG was quick to recognize what premium panels bring to the screen, and ROG has helped drive the technology forward to ensure that ROG's laptops have the best displays for gaming. ROG's consistent leadership extends into the 240Hz era; barely a month after bringing the fastest 15.6" panel on the planet to ROG's Spring 2019 Collection, ROG is back with the first 17.3" display running at the same speed. It debuted at Computex 2019 in Taipei, Taiwan, inside new versions of ROG's Strix SCAR III and Hero III esports gaming laptops.
Future Display Up For Feedback
Computex also provides an opportunity to show the panels ROG is considering for further in the future. Fresh from its April arrival, the ultra-slim Zephyrus S GX502 has been turned into a test vehicle for two jaw-dropping 4K demos. One takes the Ultra HD resolution up to a blistering 120Hz with a 3ms response and full Adobe RGB coverage, while the other showcases the same pixel density in a gorgeous AMOLED with high dynamic range.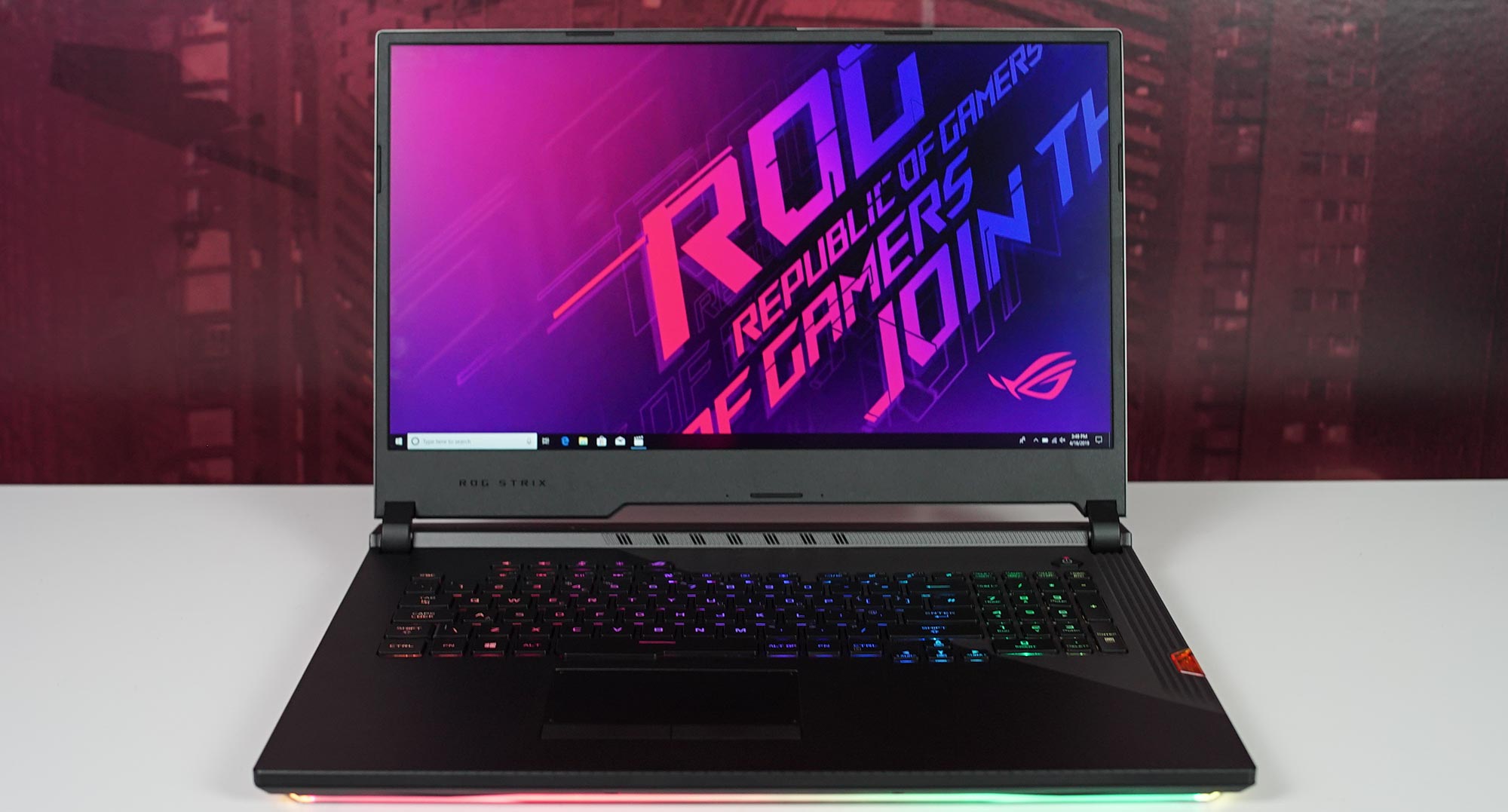 Divergent demos highlight how ROG is looking at complementing the ultra-fast Full HD panels that already populate the Republic of Gamers laptop lineup. They also underscore the work ROG is doing to guarantee the color accuracy of select models to meet the needs of creators and professionals who harness the power of gaming machines to turbocharge their creativity and productivity.
Pushing The Boundaries Of Speed
ROG started the high-refresh revolution for gaming laptops back in 2016 with the G752VS, whose IPS-type AHVA panel maintained excellent colors and viewing angles despite doubling the speed of competing displays. ROG has added 120Hz models in multiple sizes that year and also spurred a project with chemical giant Merck to develop a new liquid crystal structure capable of supporting even higher speeds. That effort paid dividends the following year, allowing us to introduce the first 144Hz gaming laptop in the original G703 desktop replacement, followed quickly by a more portable version in the Strix GL503VS SCAR Edition.
While higher refresh rates make gameplay look and feel smoother, there's more to the equation than just faster frequencies. The 144Hz panel also cut the grey-to-grey pixel response time to just 7ms, a reduction of nearly 4X over the alternative at the time. Speeding up pixel transitions reduces blurring around fast-moving objects and for quick panning motions, producing a clearer picture that helps maintain your sense of illusion. That picture got even clearer in 2018 when ROG led the industry by reducing the response time to only 3ms and spreading it across a full lineup of new laptops based on Intel's Coffee Lake processors.
ROG set the tone again at CES earlier this year by demoing a cutting-edge 240Hz panel inside the Strix SCAR II. That display's intoxicating combination of insanely high refresh and ultra-quick response set a new standard for hardcore gaming laptops and portable esports rigs, and we were the first to roll it out across a diverse family of laptops that includes the Zephyrus S GX502, Zephyrus M GU502, Strix SCAR III G531, and Strix Hero III G531. Now ROG is at the forefront again with 17" models that bring 240Hz to an even bigger stage.
The ROG Strix SCAR III And Hero III Feature 240Hz Across 17" Displays
The new Strix SCAR III G731 and Strix Hero III G731 have the same 240Hz refresh rate and 3ms response time as their 15" twins. They wrap the larger panel in similarly slim bezels that make the screen feel even bigger and more engaging, and they don't sacrifice colors or viewing angles in pursuit of speed.
With up to GeForce RTX 2070 graphics that can push into factory overclocked territory thanks to ROG Boost, there's enough horsepower to generate triple-digit frame rates that saturate the display. ROG Intelligent Cooling helps to maintain high clocks by combining the right cooling hardware with smart software that automatically adjusts to your preferences, while up to a 9th Gen Intel Core i9 processor brings heavyweight CPU power.
Learn more about the Strix SCAR III and Hero III in ROG's introductory article from their April launch, and expect the 17" 240Hz models to start arriving in Q3. Check with your local ROG representative for details on pricing and availability in your region.
Get The Best Of Both Worlds At 4K And 120Hz
Laptops have traditionally had to choose between high resolution and high refresh, but not anymore. Longtime panel partner AUO has developed a 4K panel capable of refreshing at up to 120Hz, which is double the speed of typical Ultra HD displays. ROG engineers put this groundbreaking 15.6" panel in a special version of ROG's Zephyrus S GX502 ultra-slim gaming laptop that's draped in a brand new color dubbed Glacier Blue. The new display accentuates how effortlessly the latest Zephyrus S transitions from gaming to content creation. NVIDIA G-Sync Technology synchronizes the refresh rate of the display with the frame rate of the GeForce RTX 2070 GPU to eliminate tearing and smooth over performance fluctuations in normal gameplay.
The 3-ms response time helps to maintain a clear picture with fast-paced play, and the 400-nit backlight improves visibility in brighter environments. On the creative side, artists can draw from a wide gamut that covers 100% of the Adobe RGB color space, a much broader range than standard sRGB. The panel can also be factory calibrated and Pantone Validated to guarantee color accuracy for professionals and creators who need images to look exactly as they should.
AMOLED Delivery A High Dynamic Range
ROG also built a second Zephyrus S demo machine with an AMOLED that takes a different path to 4K nirvana. Although the panel is fixed at 60Hz, its pixels transition almost instantly with a response time of only 1ms.
The AMOLED trades high refresh for high dynamic range; it's 80,000:1 contrast ratio is exceptional, anchored by seductive blacks that look so dark it's like staring into deep space. Luscious colors cover 100% of the DCI-P3 color space commonly used in movie production, making this experimental configuration more appealing for video editing. With eight bits per channel plus two more via dithering, the display can produce over a billion individual hues.
Because the panel is so lightweight, covering it with a protective layer of glass barely adds to the overall heft of the laptop. The combination of AMOLED and glass is only slightly heavier than the matte TFT alternative.
A Versatile Display Lineup For Gamers And Creators Alike
While the AMOLED isn't available on any of ROG's current models, it's not the only way to get HDR in a gaming laptop. Special versions of the ROG Zephyrus S GX531 and GX701 offer high dynamic range via traditional TFT technology. At 144Hz and 3ms, their Full HD displays blend blistering speed with VESA DisplayHDR 400 certification. Software support is still somewhat thin due to the lack of a single API for high dynamic range, but that's the price of living on the leading edge. You still get over a billion colors driven by a powerful backlight with local dimming.
Those looking for an immediate 4K fix can find one in the ROG Mothership, whose revolutionary standing form factor is available with a 4K display that refreshes at up to 60Hz with G-Sync. Like the 4K120 tech demo, the panel covers 100% of the Adobe RGB color space, making it particularly appealing for videographers who want to edit 4K footage natively.
If you can work within the standard sRGB color space, ROG's latest lineup offers multiple models with factory calibration that guarantees color accuracy for creators. The Zephyrus S GX502, GX531, GX701, and Zephyrus M GU502 can be configured with Pantone-validated panels, and all but the GX701 are available at speeds up to 240Hz and 3ms. Professionals like to play, too.