The Steam page of Monster Hunter World PC just went live and revealed that the game will be available August 9th with Denuvo DRM included.
The system requirements we posted yesterday have also been largely confirmed, with the exception of the required space for Monster Hunter World PC (20GB instead of 25GB) and the addition of the following AMD cards: AMD Radeon R7 260x (VRAM 2GB) for minimum and AMD Radeon RX 570X (VRAM 4GB) for recommended. There are also a few pre-order details which you can find below and a brand new trailer.
PRE-PURCHASE OFFER
Pre-order to receive the following bonus content
Origin Set
The Origin Set armor is a nostalgic must-have for series fans.
This full armor set (head, chest, arms, waist, and legs) comes with enough defense to carry you through the early quests, and also features plenty of skills useful for gathering.
Fair Wind Charm
The Fair Wind charm carries a skill that increases your attack power, and one that adds a chance of reducing the damage you take. The charm also has a nice visual impact, as equipping it will add a glowing aura effect to your left arm!
DIGITAL DELUXE EDITION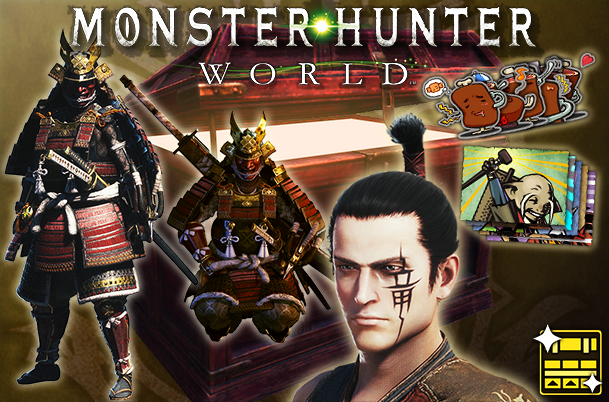 The digital deluxe edition includes the following content:
Samurai Set
Layered armor sets will change the look of your armor without changing the properties underneath. Equip this Samurai set over your favorite armor to take on the striking appearance of a feudal Japanese samurai warrior!
Note : No weapons are included with this set
Gesture: Zen
Gesture: Ninja Star
Gesture: Sumo Slap
Enjoy three new amusing gestures you can use when interacting with other players in the game.
Sticker Set: MH All-Stars Set
Sticker Set: Sir Loin Set
Fun stickers you can use when chatting with other players in the game.
Face Paint: Wyvern
Add a new face paint for character customisation in Monster Hunter: World.
Hairstyle: Topknot
Adds a new hairstyle for character customisation in Monster Hunter: World.