Google Translate may not offer perfect, word-to-word translations between languages and the results are often hilarious. But, it is arguably the best translation service available on the internet and it has been getting better with subsequent updates. Instant translation with automatic language detection is one of the features Google showed off at I/O 2019. It is yet to make its way to Google Lens but is now rolling out for the Google Translate app on Android. According to Google's blog post.
The instant camera translation adds support for 60 more languages, such as Arabic, Hindi, Malay, Thai and Vietnamese. Here's a full list of all 88 supported languages. What's more exciting is that, previously you could only translate between English and other languages, but now you can translate into any of the 100+ languages supported on Google Translate. This means you can now translate from Arabic to French, or from Japanese to Chinese, etc.
The Google Translate app also gets a better interface and new features that will improve the quality of translation while using the camera. There is a new bar at the bottom with the three available modes such as Instant, Scan, Import. The Instant mode gets a "Pause translation" button while the text translated with the Instant mode is displayed on top of the original text with its formatting style. The Scan mode gets a new Clear button which lets you unselect the highlighted set of words. Lastly, the Import mode lets you select and scan existing images from the gallery to translate them.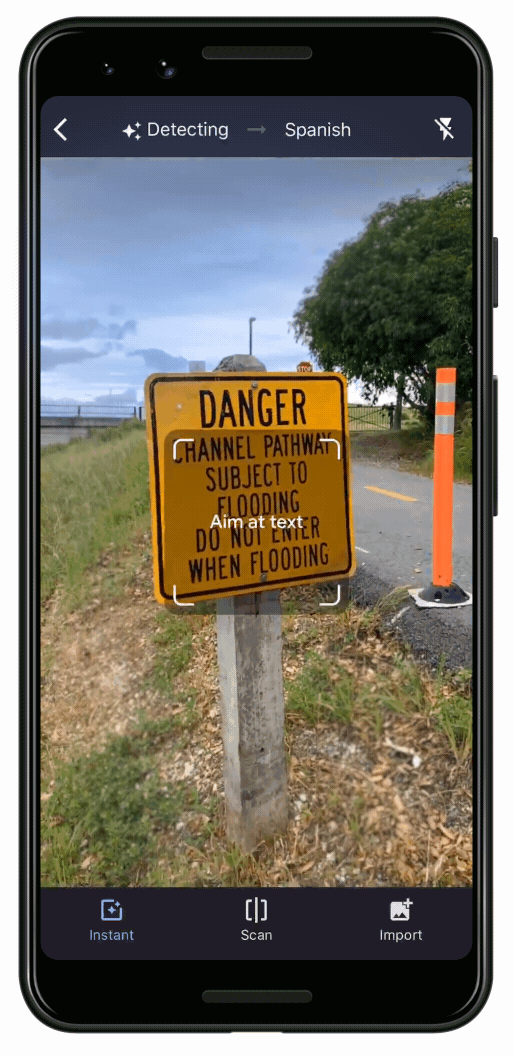 Google Translate's instant camera feature now supports over 60 new languages. Some of the new languages include Arabic, Hindi, Malay, Thai, and Vietnamese. More importantly, you can translate between more languages. The update also adds an option to "Detect language" for when you're not sure of the language you're looking at. Here is the full list of languages that are now supported. The changes are rolling out via a Play Store update and should be available to all users in the coming weeks.