Whether you're away on business or traveling with family, gaming on the go just isn't the same as firing up a first-person shooter at home in front of the big screen. Thinner bezels, higher resolutions, and variable refresh rate technologies all help laptop displays look better, but they're no substitute for a generously-sized panel designed to make your favorite titles truly immersive. Enter the ROG Strix XG17. Asus' first portable gaming monitor gives you 17.3" of screen real estate and a maximum refresh rate of 240Hz. Plug it into the wall when AC power is available or drive the XG17 through its two USB Type-C ports. A pair of 1W speakers ensure you always have sound, even when you forget your headset at home. And at less than half an inch thick, it takes up minimal room in your backpack, so stashing it away for your next trip is a no-brainer.
Tap into your maximum potential with 240Hz gaming
Mobile graphics processors get faster every generation, which is great for rendering the latest AAA titles at playable frame rates while you're on the road. But nowadays, serious gamers need more than a smooth 60 FPS. The world of esports demands higher performance to facilitate quick reactions, and high-refresh displays are standard for both practice and competitive play. The ROG Strix XG17 steps up to the challenge of delivering ultra-high-refresh gaming anywhere you go. With a 240Hz refresh rate, it's able to get new information on-screen as quickly as your GPU can crank it out, and its 3ms response time prevents the ghost images that cause unwanted blurring in twitchy games played on slower panels.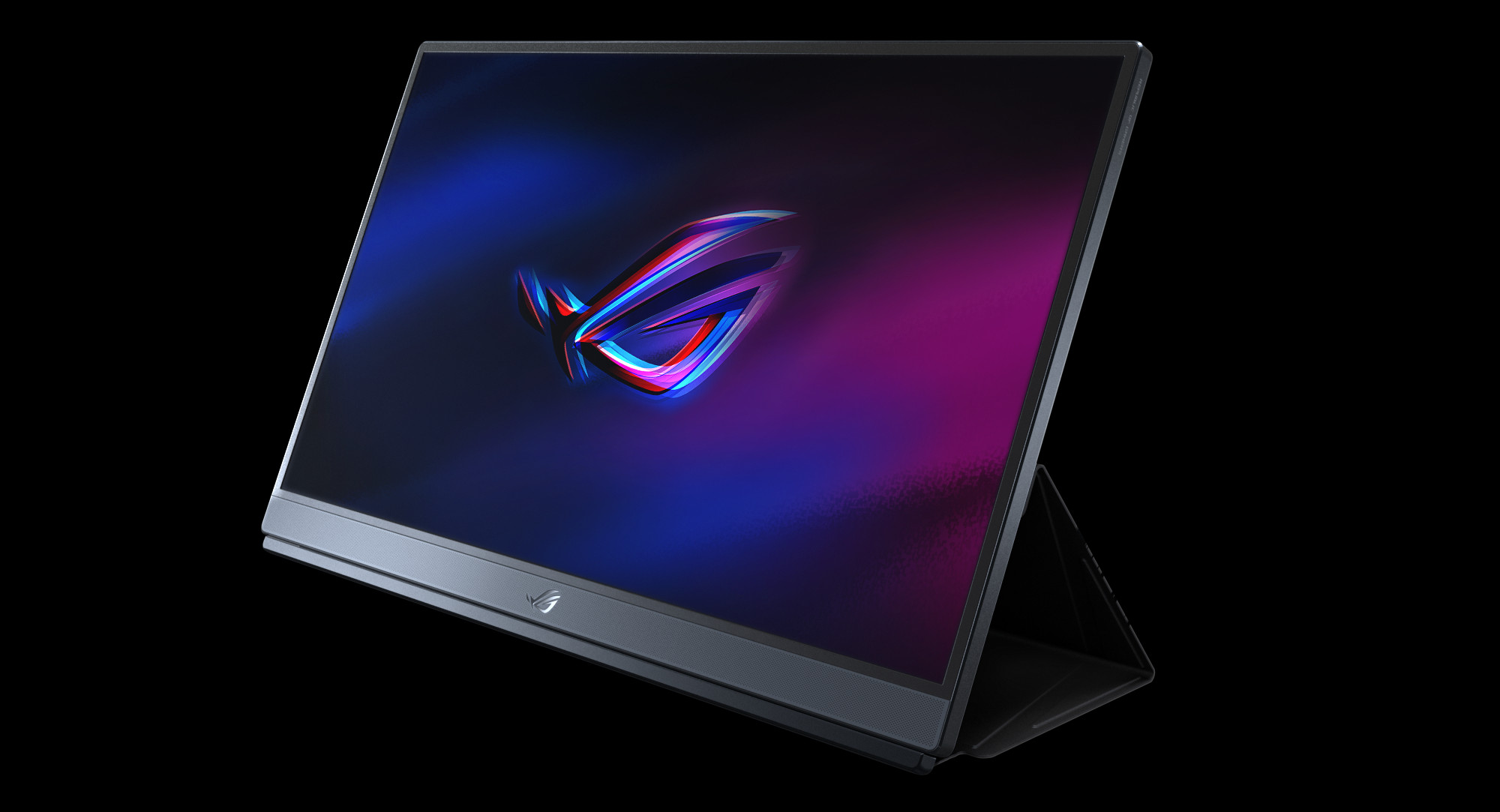 A 1920 x 1080 native resolution perfectly complements the XG17's ultra-fast refresh rate, providing a deliberate balance between pixel count and lots of frames per second. Support for Adaptive-Sync technology syncs the refresh rate with the output of compatible GPUs between 48Hz and 240Hz. As your laptop's performance spikes and dips within that range, both components remain in lockstep to prevent the tearing and stuttering caused by turning Vsync off or on. Regardless of the device, your gaming on, the Strix keeps an enjoyable experience well within reach.
The IPS panel features wide 178° viewing angles keep colors vivid even for spectators sitting off to one side. That means you can share the screen with a friend or lounge comfortably while you watch movies instead of having to position yourself directly in front of for a good view.
Easy to carry; quick to configure
The XG17's monster list of high-end specifications is complemented by an immense convenience factor, and it's been specially tailored for life on the road. Its matte panel resists fingerprints better than glossy surfaces, while the metal chassis stands up well to the jostling it's bound to receive as it bounces around in your bag. Brushed surfaces on the back hold up well against scratches and add some subtle flair that echoes the aesthetic of Asus' latest ROG gaming laptops.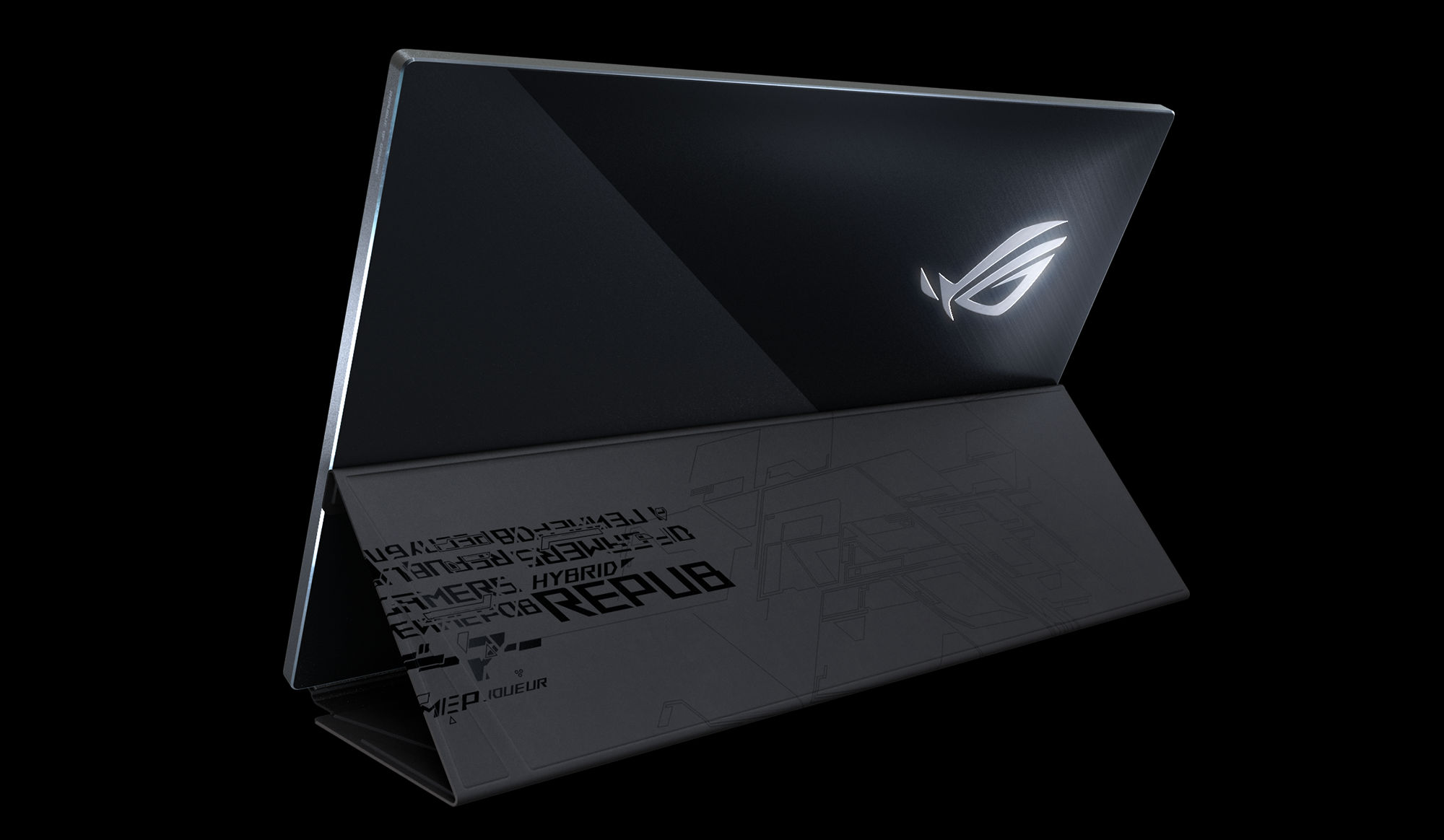 A dual-purpose smart cover protects the screen during transit. Then, once you reach your destination and are ready to get the XG17 setup, the cover folds into one of many possible positions. Regardless of whether the ROG Strix Go is standing tall, angled back, or lying flat, you have easy access to its USB Type-C and micro-HDMI 2.0 ports on the side. Both interfaces carry high-speed video and audio signals, making them equally good choices for enjoying the XG17's 240Hz refresh rate and built-in speakers. You can fine-tune the monitor's picture using the bundled DisplayWidget utility. Asus' GameVisual feature applies presets based on the type of game you're playing, whether that's a racing sim in need of optimized input lag, a first-person shooter able to benefit from high contrast, or an RPG enhanced by saturated colors.
Don't let travel narrow your focus
There's no reason to settle for a subpar gaming experience just because you're busy on the road. The ROG Strix Go XG17 opens the door to immersive after-hours action on a big 17.3" screen at up to 240Hz. During the day, it can be used to extend your Windows desktop for an extra infusion of productivity. At night, you can hook the XG17 up to your laptop, a game console, or even connect to your phone.