AMD Radeon GPUs may power everything from humble consoles to the most powerful gaming and content-production PCs, but it's PC gamers who are about to get an exclusive first look at the company's next-generation graphics architecture. Code-named RDNA, the red team's latest microarchitecture reimagines the Radeon to improve both absolute performance per clock cycle by up to 1.25X and performance per watt by up to 1.5X.
RDNA's first embodiment comes in the form of Navi, a 7-nm GPU hot off the TSMC production lines. With 40 RDNA compute units (CUs) on tap, Navi can offer up to 2560 stream processors for number-crunching duty. AMD has also returned to good old GDDR VRAM for Navi, outfitting its next-gen cards with GDDR6 memory running at speeds up to 14GT/s. Given Navi's 256-bit-wide memory bus, that VRAM can feed the chip with up to 448GB/s of memory bandwidth.
Navi Rides In On A Dynamic Duo Of Cards
Using those basic building blocks, AMD is releasing two Navi-powered graphics cards. The Radeon RX 5700 XT will be the most powerful Navi card at launch. It harnesses all 40 of those RDNA CUs and clocks them at a typical game frequency of 1755MHz. AMD claims that'll be good for up to 9.75 TFLOPS of single-precision compute performance. The RX 5700 XT will have 8GB of that GDDR6 memory on board, and it'll have a list price of $399.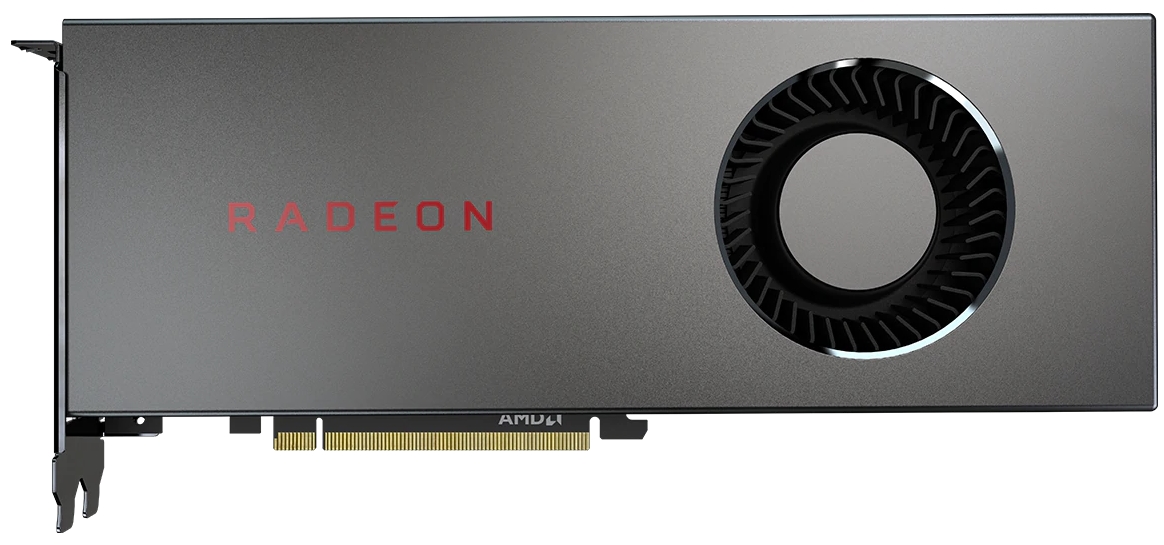 The Radeon RX 5700 rings in at $349, and it'll use 36 of Navi's 40 available CUs running at a 1625MHz game clock to deliver up to 7.95 TFLOPS of single-precision number-crunching power. This card will also enjoy 8GB of GDDR6 memory running at 14GT/s.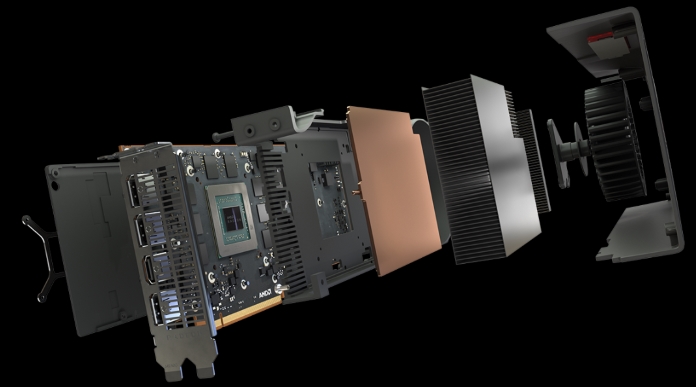 As befits cards likely to end up in motherboards built on AMD's X570 platform—the world's first consumer chipset with PCIe 4.0—both the Radeon RX 5700 XT and RX 5700 support PCIe 4.0. They're fully backward-compatible with older PCIe slots, too. Both Navi cards will offer DisplayPort 1.4 and HDMI 2.0b display outputs, and they both require one eight-pin and one six-pin PCIe power connector to operate.
Sharper, Faster, Better, Stronger
One software feature coming alongside Navi, Radeon Image Sharpening, improves image quality by intelligently increasing contrast in parts of game scenes. The technique only sharpens parts of an image that aren't already high-contrast areas, so it avoids unpleasant artifacts around edges of characters and objects.
The technique works great with any form of anti-aliasing to make for better-looking games all around. Best of all, Radeon Image Sharpening requires no developer support and can be enabled with a toggle in the Radeon Settings application. Just make sure you're playing a DirectX 9, DirectX 12, or Vulkan title on Windows 10.
Another prominent feature arriving alongside Navi, called Radeon Anti-Lag, manages the work that a system's CPU dispatches to the GPU for processing to ensure that the lag from a player's click or key press to the time that the player sees the results of their action on-screen is minimized. In esports titles where the difference between victory and defeat can be measured in milliseconds, Radeon Anti-Lag might be just the thing you need to save your bacon.