Samsung Galaxy S3 to be Launched in Blue and White Color !
Yes you read it right, Samsung is ditching its trademark black plastic casing for its Galaxy smartphones and is now going for a new blue and white (possibly ceramic) casing for the yet to be launched Galaxy S3. Folks over at GSMarena got a secret tip indicating that the British phone retailing giant Carphone Warehouse have inventoried two versions of the upcoming Samsung Android flagship into their database , namely black and blue , as shown in the screenshot below. This should not come as much of a surprise as we all expected Samsung to come up with something different and innovative for it latest smartphone.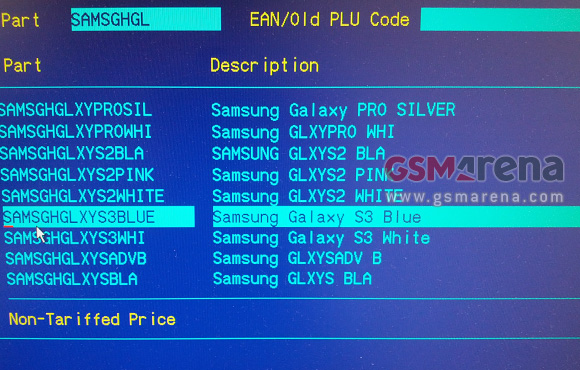 For us to get a rough idea about how the blue and white Galaxy S3 would look like we can check out the Samsung Galaxy Note for AT&T (shown in the topmost picture) which was available in Carbon Blue and Ceramic White, but when you actually see these variants you will realize that the blue colour is so dark it can be taken for a black any time of the day unless seen in specific lighting. So we are hoping same would be the case for Galaxy S3.
In other news/rumors relating to the Galaxy S3, the Hong Kong blog unwire.hk revealed that it received a "mystery" product in the form of USG's  mobile phone screen protector designed for Galaxy S3. This, if it's actually a screen protector for the Galaxy S3, does provide us with some last-ditch clues regarding the final design features of the Galaxy S3.
The protector covers a screen which contains a sleek home button similar to the Galaxy Nexus, albeit with a significantly larger screen. When compared with the HTC One X which has a  4.7″ inch screen, the protector was still not covered completely by the screen which somewhat confirms the rumors that Galaxy S3 would have a 4.8″ inch screen. Jump over to this link to view a detailed analysis and comparison of this mystery screen protector !
Less than 24 hours remain before Samsung reveal their ultimate smartphone to the world. We'll provide you with all the news and reviews coming out of the "Come and meet the next Galaxy" event to be held in London on 3rd May at 7pm (WET). So don't forget to stop by and find out what exactly is Samsung up to with its latest android smartphone !